BY DEGREES is published!
Here are the buy links and descriptions for my latest release, BY DEGREES, an adult romance.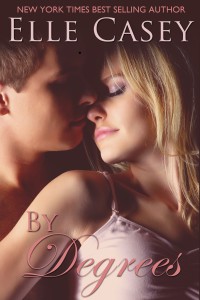 AMAZON LINKS:
US:  http://amzn.to/13T7mUu
UK:  http://amzn.to/13AdF3X
Canada:  http://amzn.to/14u0N1Q
Deutschland:  http://amzn.to/13HjUzg
France:  http://amzn.to/15HuJEp
Italia:  http://amzn.to/194dyls
Espana:  http://amzn.to/1cqTLgq
LINK ON NOOK:  http://bit.ly/1b6HPgO
Scarlett Barnes has another name she goes by sometimes. People call her The Normalizer when they need her to take care of a certain kind of problem. A certain kind of Hollywood problem…
Celebrities all suffer from the same disease. I call it the create-your-own-reality disease. Most of them start out normal, like you and me, but somewhere along the way they lose sight of up and down, left and right, and then eventually right and wrong. It's my job to fix that.
Who hires me? Agents usually. Producers sometimes. Occasionally a spouse or other concerned family member (although I'm usually skeptical of those calls, but that's another story). They know they can trust me to be professional, discrete, and above all, not personally involved with my clients. I come in, I take over their lives, and I get them back on track. Help them remember what it's like to be an average Joe.
I attribute my success to my take-no-prisoner's attitude. I don't have time for games or playing around. I've closed down every job in thirty days or less, and no one, not even the most outrageous celebrity screw-up will ever change that, hard as they might try.
Case in point, my latest job acquisition: his friends call him Tear-It-Up Kilgour, but I just call him Tarin – lead singer and guitarist for the band By Degrees. I have thirty days to get his butt back on planet earth before he loses his record deal, his movie contract, and possibly even his life. I've never failed so far, and I don't plan on failing this time either, even if Tarin has other ideas.